Once again time to clean the shack and put some great gear on the table for you folks to enjoy.I will list the gear with a "Button" to click over to a information page. All $$$$ transaction will be via PayPal @ kc4pe@mindspring.com. If you need any additional information please feel free to send us a email @ kc4pe@kc4pe.com.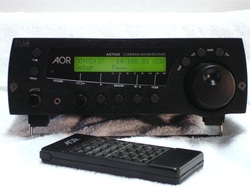 The AOR - 7030 Transceiver, one of the best HF receivers on the market. Ranked a shade out of the top ten, by Rob Sherwood, this analog receiver is amazing. Selectable crystal filters from 1.7 ... 2.2 ... 2.8 .... 3.3 ... 5.4 and 9.5. and comes with 5 spare filters. The mother filter board has been custom modified to accept filters of different physical size.

Unit has the optional Noise Blanker and Notch Filter installed. All manuals and service sheets. I run the 7030 as the receiver and the Kenwood TS-870 as the Transmitter. AOR designed the 7030 to work with the Kenwood products with auto muting etc...!!


---
---
---